Description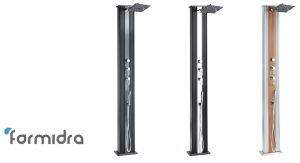 The Dada solar shower is the premium model of the Formidra brand, a specialist in the manufacture of garden showers.
Its Hybrid technology combines a 40L solar tank and a hot water inlet.
It thus offers natural solar heating via its tank, and additional hot water from the house network if necessary.

Hybrid technology guarantees maximum comfort and hot water always available, regardless of the number of users.
Its chic and modern design fits perfectly in a garden or near a swimming pool.
It is equipped with two stainless steel mixers, an anti-limescale knob and a stainless steel foot-rinse shower.
The Dada garden shower naturally heats the water in its reservoir with the help of the sun's rays.
Made of recyclable aluminum, it is both light and robust.
Its installation is quick and easy thanks to the included fixing kit.