Description

Round shape compact ethanol burner with large scale flame
Used in multiple custom installations, the compact design and absolute versatility of the AB8 allow it to easily integrate into exterior and interior fire designs. Whether residential or commercial, the clean, modern shape guarantees absolute design flexibility.
Generates a beautiful flame on a larger scale.
The AB8 (EN) burner conforms to BS EN16647.
Accessories:
Includes everything you need to easily use and protect your investment for many years to come.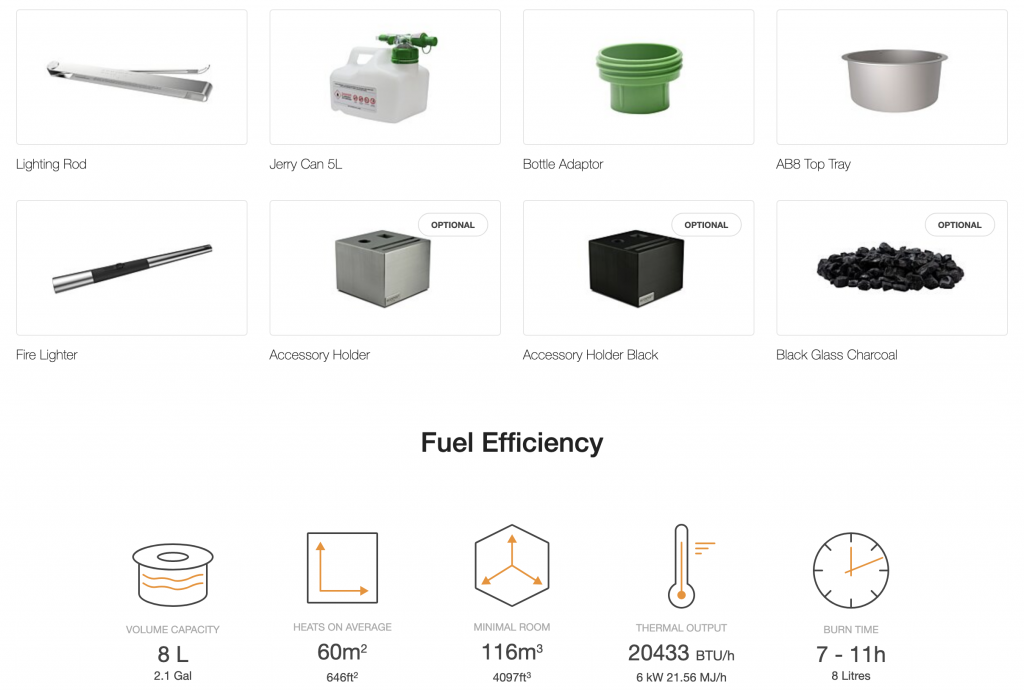 Main characteristics
Minimum clearance
AB8's minimum clearance requirement gives you the freedom to create the installation you've always envisioned.
Long-lasting flame
The AB8's 8L capacity offers up to 11 hours of battery life.
Ecological
Powered by environmentally friendly and readily available renewable energy – e-NRG bioethanol.
No flue, no chimney, no connection
There is no need for a chimney to vent harmful gases, as the combustion of e-NRG liquid bioethanol does not produce any smoke. No utility connection required!
Quality and durability
Made from high quality 304 stainless steel, engineered to deliver rugged performance every time.
Consistent and reliable
The minimalist design and the ability to withstand extreme heat ensure consistent and reliable operation at all permitted temperatures and fuel levels.
Tested all over the world
Our collection has been extensively tested against a number of global standards and is UL listed in the US, certified for EU and UK to EN16647, and meets ACCC's safety mandate for Australia.

E-NRG bioethanol is the cleanest, safest and most efficient liquid fuel on the market that produces the most beautiful flame.
A composition of natural elements: Its combustion is the result of its own emission. There is only heat, water vapor and CO2.
Clean combustion: It does not release smoke or odor when it burns, so you will not need a flue! Therefore, the heat that is created is maintained.
Odorless: In order to ensure your comfort in the first place, it has been primarily developed for a ventilation-free system
An elegant flame: The combustion of bioethanol creates a beautiful captivating orange flame.
The most efficient: After several tests, we ensure the longest burning time.
Optional flame arrester: Equipped with a flame arrester, the bio ethanol burners make it the safest on the market.
Drawing: